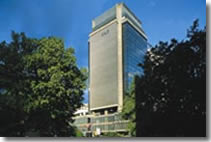 CAF expresses solidarity with Chile
February 28, 2010
The institution announced its willingness to cooperate with the Chilean government.
>
(Caracas, February 28, 2010).- Following the earthquake which devastated a large part of Chile, CAF expressed its solidarity with the government and people of that country in a letter sent yesterday by CAF President & CEO Enrique García to Chilean President Michelle Bachelet.
"On behalf of CAF, and myself, I express to the Chilean people our most sincere and profound solidarity following the lamentable effects of the earthquake, which has caused appreciable loss of human lives and significant damage to infrastructure."
García confirmed the willingness of the development bank he heads to support the Chilean government in the areas it considers necessary and through the mechanisms which CAF employs in its operations.