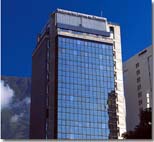 Financing facility for natural emergencies in Bolivia.
(La Paz, February 18, 2010).- CAF today announced approval of a US$75 million contingent financing facility in favor of the Plurinational State of Bolivia, which will be used to prepare an integrated response to emergencies caused by natural phenomena which affect the nation's social, physical and natural capital.
The objective of the financing facility is to support primary response for victims, execution of works for provisional restitution of basic services; support for pre-investment studies and final reconstruction works, including works for prevention and mitigation of the impact of climate phenomena.
CAF President & CEO Enrique García reaffirmed the multilateral bank's commitment to its partner countries "especially at this critical time when a rapid response to the affected population is required."
Last January 29, a national emergency was decreed in Bolivia following intense rains which caused flooding and landslides in La Paz, Cochabamba, Santa Cruz, Beni and Chuquisaca departments. The emergency affected 39,000 families, with 15 dead, according to latest reports from Civil Defense.
The emergency may be extended to other departments or municipalities, "whose risk situation could affect normal life in their territory."