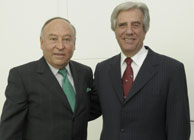 Funds to strengthen social agenda for Uruguayan border with Brazil.
February 26, 2010
CAF President & CEO and Uruguayan Minister of Social Development signed an agreement. The Uruguayan president was witness of honor.
The non-reimbursable funds will contribute to developing the cross-border social agenda in the Rivera, Cerro Largo and Rocha, departments, by strengthening local institutions, citizen participation and exercise of citizen rights.
(Montevideo, February 26, 2010).- As part of CAF actions in favor of Latin American cross-border development and integration, President & CEO Enrique García and the Minister of Social Development of the Republic of Uruguay, Maestra Marina Arismendi, today signed an agreement to grant non-reimbursable funds to strengthen the Brazil-Uruguay cross-border agenda. The signing took place with the presence of honor of Uruguayan President Tabaré Vázquez.
After the signing, García, who will attend the inauguration of the new president of Uruguay, said, "these funds are part of a broad CAF strategy in favor of regional integration, through strengthening and convergence of subregional and cross-border programs of development and integration, which promote the physical connection and improvement of border passes, along with the productive, social and sustainable environmental development of cross-border areas."
The program implemented by the Uruguayan government will strengthen local institutions, participation and exercise of citizen rights in the departments of Rivera (Rivera-Santana Do Livramento), Cerro Largo (Acegúa-Acegúa), and Rocha (Chuy-Chui-Santa Vittoria Do Palmar).
The funds granted by CAF come from the Cross-Border Cooperation and Integration Fund (COPIF), which now supports over 24 initiatives in Latin America and the Caribbean. The COPIF's objective is to support and finance the identification, preparation and execution of high impact projects which promote sustainable human development in border regions, and strengthen cooperation, dialogue, mutual confidence and cross-border integration at bilateral and multilateral level.