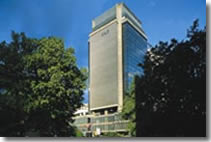 Support for improving business climate in Ecuador
(Quito, February 24, 2010).- The Ministry of Coordination of Production, Employment and Competitiveness signed a technical cooperation agreement with CAF to promote and implement administrative simplification reforms.
CAF approved a non-reimbursable technical cooperation agreement in favor of the Ministry of Coordination of Production, Employment and Competitiveness (MCPEC) to execute the National Procedure Simplification Plan in seven municipalities. The objective is to implement administrative reforms which improve the business climate. and attract more investment into the municipalities.
The agreement was signed by Nathalie Cely, Minister Coordinator of Production, Employment and Competitiveness, and CAF President & CEO Enrique García. The commitment was today confirmed by Minister Cely, represented by Vice Minister Mauricio Peña, CAF director-representative Hermann Krützfeldt, and Jairo Tiusabá, CAF public policy executive.
The CAF director-representative said he was pleased with the signing of the agreement because the project would have a high impact on the efficiency of administrative procedures at local level and on improving conditions for the business sector. This initiative is in line with one of the main objectives of the CAF Competitiveness Support Program (PAC) which is to improve the business environment of its shareholder countries.
According to "Doing Business" report, the informal economy in Ecuador represents 34% of GDP, partly because of excessive regulations and inspections which increase the cost of starting up businesses. The business sector considers that the conditions of opening and operating licenses impose severe restrictions on investment.
The International Financial Corporation (IFC) will also participate in the project. In 2007 and 2008 IFC implemented a procedure simplification project with the Quito and Manta municipalities aimed at shortening issue times for operating licenses and building permits. In the city of Quito, the project was successful in reducing the process of obtaining operating licenses from 68 to 3 days (or 15 depending on the risk level of the business), and from 50 to 17 days for obtaining building permits. In the case of Manta, the time was cut from 43 to 3 days for operating licenses and from 75 to 5 days for building permits.