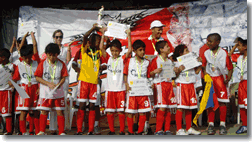 XXVII CAF Friendship Cup ends with record participation
February 03, 2010
The championship, organized by Cantolao Academy with CAF support brought together 5,000 children from 300 children's and youth football teams from eight countries of the continent.
CAF support for the tournament is part of the "Let's save the dolphins" initiative, which helps children and young people from socially underprivileged sectors in risk situations.
(Lima, February 3, 2010).- A football fiesta - with goals, hullaballoo and rejoicing - marked the final session of the XXVII CAF Friendship Cup. The championship was played from January 25 to 31 with the participation of 5,000 children and young people in 300 teams, in various venues in the Peruvian capital under the organization of the Cantolao S ports Academy with CAF support for the third year running.
During the closing ceremony - held in the National Sports Villa (Videna) - CAF executive Marcela Benavides , representing the CAF director representative, presented the medals and cups to the winning teams in the 2001 category, Premier division.
The champion in this category was the team from the Cantolao San Juan de Miraflores Academy, after its victory over Metropolitan School Ecuador. Third and fourth places went to the Rocafuerte Football School of Ecuador and Cantolao B.
For category 97, Premier division, Real Libertad de Trujillo was declared champion after a tough fight against Buscando una Estrella of Ica which fought hard until the end, but went down 3 to 2. While Deportivo La Punta had to be satisfied with third place after winning 3-1 against Cantolao Los Olivos.
In the Special Division, Cantolao "A" took the title after a dramatic clash with the South American Academy of La Libertad (8-7), while Country Club Villa came third after scoring 5-1 against Cantolao Chiclayo.
In another contest, César Vallejo University of Trujillo was proclaimed king of category 98' Premier with a resounding 3-0 victory against Wanka Nation of Junín, while Semillero Cueto-La Rosa took third place after beating Cantolao A 4 to 3.
Premier Category 99' went to a foreign team: Metropolitan B School of Ecuador won 3 to 2 against Cantolao "A" and conquered the title. Third place was taken by UCV Aragua School of Venezuela.
The foreign teams playing in this "XXVII CAF Friendship Cup" were Corinthians of Brazil, Club Monaguillos of Colombia, Andean School of Chile, EMELEC and Rocafuerte Football School of Ecuador, Golden Soccer of the United States, Cruz Azul of Mexico, and Isla Margarita School of Venezuela.
Local teams included Cantolao Academy in all categories, Tito Drago Academy, AELU, Semillero Cueto La Rosa, Universitario de Deportes, Alianza Lima, Municipal Sports School, along with the colleges of San Agustín, Juan Semino de Piura, Melgar de Arequipa, IDUNSA and Yanahura Football Academy of Arequipa, Wanka Wallarsh of Huancayo, Cienciano and Carlos Daniel Jurado Football Club of Cuzco, César Vallejo Sports Club of Trujillo, Francisco San Román of Puno, and Señor de los Milagros Academy of Pucallpa.
The cooperation provided by CAF for the holding of the championship is part of the larger "Let's save the dolphins" initiative, executed by the Corporation since late 2007, which supports children and young people from socially underprivileged sectors of El Callao in risk situations.
This support includes psychological, teaching and nutritional care for 50 children from low-income sectors of El Callao, as well as promotion of football as a tool for rescuing children and young people with problems.
The "Let's save the Dolphins" project is part of the sports training promoted by CAF with the aim of helping organizations similar to the Cantolao Academy in Colombia, Bolivia, Venezuela and Ecuador.