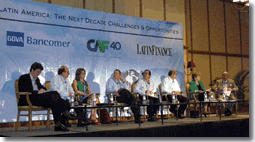 Breakfast-Debate "Latin America Economic and Political Challenges"
March 25, 2010
CAF, BBVA and Latin Finance magazine sponsored the event held today in Cancun, Mexico.
The flexible and interactive debate dealt with the main macroeconomic challenges confronting the region, along with competitiveness, international participation and social equity.
The discussion also concentrated on the future of integration, the region's role in the global context and the contributions of multilateral organizations to the development agenda of Latin America and the Caribbean.
The debate was moderated by CAF President & CEO Enrique García. The panelists were the ministers of Finance and Public Credit of Colombia, Oscar Iván Zuluaga; Economy and Finance of Peru, Mercedes Aráoz; Planning, Budget and Management of Brazil, Paulo Bernardo Silva; executive president of ECLAC/CEPAL, Alicia Bárcena; president & CEO of FLAR, Rodrigo Bolaños; chief economist of BBVA Bancomer for Mexico and USA, Jorge Sicilia; subsecretary of Finance and Public Credito of Mexico, Alejandro Werner; and the editor of Latin Finance magazine, James Crombie.