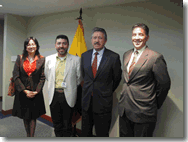 Contribution to forest conservation in Ecuador
(Quito, April 14, 2010).- CAF and Corporation Ecolex signed a non-reimbursable technical cooperation agreement whose objective is to contribute to forest conservation in Ecuador, threatened by deforestation and soil degradation, by guaranteeing land ownership and developing sustainable management practices.
Present at the signing were Hermann Krützfeldt, CAF director-representative; Mauricio Velásquez, CAF environment executive; and Manuel Iván Morales, executive director of Ecolex.
Hermann Krützfeldt spoke of the need to work - in the framework of the CAF environmental agenda - on conserving the country's forest area of approximately 6.5 million hectares. The area has extremely high biodiversity but also a high percentage of problems due to lack of land title documents. Solving these problems would be an important step toward reducing the rate of deforestation and environmental degradation.
Manuel Morales of Ecolex said the cooperation would help foster from civil society an institutional and citizen understanding of the importance of land ownership and forest conservation. The Project will develop a proposal with valuable inputs for defining public policies which create incentives for rural and marginal sectors to conserve the land and guarantee its sustainability.
This operation is part of the BioCAF program which supports efforts oriented to conservation of ecosystems which host a high level of biological diversity.
Corporation Ecolex is a non-profit organization, which in over ten years of existence, has generated proposals for legislation, ordinances and specific regulations for various problems including land ownership in areas of high biodiversity in Ecuador.