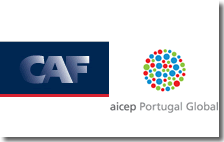 Presence strengthened in Portugal
April 20, 2010
Representatives of public and private sectors took part in the seminar: CAF Action in Latin America
The CAF president's activities in Portugal included signing a memorandum of understanding with the Portuguese Investment and Foreign Trade Agency (AICEP), body responsible for investment promotion overseas.
(Lisbon, April 16, 2010).- After the entry of Portugal as CAF shareholder in 2009 actions have increased to further strengthen the country's relations with Latin America. In this respect, CAF President & CEO Enrique García, accompanied by a delegation, visited the European nation to deepen CAF's presence among public and private sectors in Portugal.
During his visit García signed with Basilo Horta, president of the Portuguese Investment and Foreign Trade Agency (AICEP) a memorandum of understanding to promote joint work by the two institutions on objectives of mutual interest.
After the signing, García said, "we are continuing to deepen links of cooperation between Portugal and our region, especially in the economic, financial, trade and investment areas. Once again, CAF is strengthening its Ibero-American dimension and reaffirming its catalytic role between Latin America and the European."
"The agreement with AICEP, which concentrates on issues of sustainable development and integration, is also based on the agency's work in favor of the development of a competitive business climate between this nation and our region," García said.
A joint seminar on CAF's Action in Latin America was held in the offices of the Ministry of State and Finance, which gave representatives of government and business an opportunity to learn about the work of the development bank in the region.
During his visit to Lisbon, García met with Fernando Texeira, Minister of State and Finance; Fernando Faria de Oliveira, president of Caixa Geral; Luís Amado, Foreign Minister; Jorge Rocha Matos, president of the Portuguese Industrial Association, among others. The objective of all the meetings was to analyze opportunities of interest to both parties. Other meetings were held with authorities in the public and private sectors.