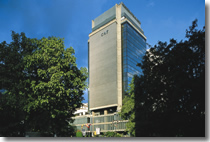 Signing of agreement for urban development projects in Dominican Republic.
April 11, 2010
With President Leonel Fernández as witness of honor, the CAF President today signed a US$80 million loan agreement with Finance Minister Vicente Bengoa.
The funds will be used for the Urban Development and Habitat Program, benefiting over 18,500 inhabitants in 61 communities.
The signing took place during the CAF chief's visit to the country.
(Santo Domingo, April 11, 2010).- "CAF gives priority to financing social infrastructure projects which directly benefit low-income communities in Latin America," CAF President & CEO Enrique García said, after signing the US$80 million loan agreement with Dominican Finance Minister Vicente Bengoa. The signing took place in the National Palace in the presence of President Leonel Fernández, as witness of honor.
The funds from the agreement will partially finance the Urban Development and Habitat Program, which the Dominican government is implementing. Under this program, integrated urban development projects will be executed in 61 communities with the objective of improving the living conditions of approximately 18,500 people in marginal localities.
The beneficiaries of the program are concentrated in risk areas which have suffered damage from the tropical storms of recent years. The executing agency is the National Housing Institute (INVI).
During his visit, García held meetings with Central Bank Governor Héctor Valdez Albizu; Minister of Economy, Planning and Development Temístocles Montas. On the signing, García said, "CAF has been financing integrated urban development initiatives in support of the homebuilding programs of the governments of our shareholder countries, along with projects to bring drinking water, basic sanitation, energy, access and roads to the population, complemented by community and sports development."
The amount of the program totals US$124.2 million, of which US$80 million will come from the CAF loan (64%), and US$44.2 million (36%) from the local contribution. The funds will be used to cover the direct costs of homebuilding and social infrastructure, and execution of the Environmental and Social Management Plan, among others.
Since becoming a CAF member in June 2006, the Dominican Republic has received loans totaling US$200 million through various operations in addition to today's signing, especially financing for the Atlantic Tourism Boulevard (BTA) for US$41.5 million, for construction of a highway which will significantly cut travel time between Santo Domingo and the Samaná peninsula, area with a high tourism potential which has priority in the country's development plan.