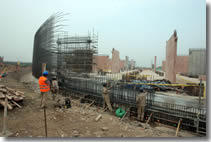 US$77 million loan approved for Lima Drinking Water Project
April 15, 2010
The works will complete the Drinking Water and Sewerage Upgrade Project in Marginal Areas of Lima, supplying 2.4 million inhabitants of marginal areas in the North and East Cones of Metropolitan Lima
(Lima, April 15 2010).- CAF approved a US$77 million loan in favor of the Republic of Peru to complete the works of the Drinking Water and Sewerage Upgrade Project in Marginal Areas of Lima with execution by SEDAPAL. The project comprises, among other components, construction of the Huachipa Drinking Water Treatment Plant which will supply 2,400,000 inhabitants of the North and East Cones of Metropolitan Lima.
The beneficiary population, which has no access to formal and reliable drinking water and sewerage services, is located in marginal areas of the districts of Lurigancho-Chosica, San Juan de Lurigancho, Comas, Carabayllo, Los Olivos, Puente Piedra, San Martín de Porres, and Callao.
"Approval of this loan is consistent with our social development agenda and support for the fight against poverty. The objective of the project is to improve the quality of life of the low-income residents of the North and East Cones of Metropolitan Lima by increasing the capacity and reliability of the drinking water supply system," Enrique García CAF President & CEO said.
The works comprise: construction of a water intake on the Rimac River with a 10 m³ per second flow; the building of the Huachipa Drinking Water Treatment Plant with a capacity of 5 m³ per second, construction of the 27 km North Branch pipeline to take treated water from the Huachipa plant to Puente Piedra district (north Lima), and five compensation reservoirs with capacity of 23,000 m³.
The total cost of the project is US$272.25 million, of which US$77 million comes from the CAF loan (28%), US$150 million from Japan International Cooperation Agency (JICA) loans (55%), and US$42.25 million from local funds (70%).