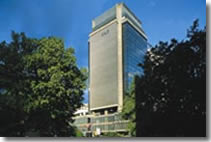 A thousand children from rural schools in Salta with Internet access
May 07, 2010
The Salta provincial government and CAF today signed a non-reimbursable technical cooperation agreement for the Project for Rural Connectivity in Salta Province
14 schools in the northern Argentine province will benefit
(Buenos Aires, May 7, 2010). CAF's objectives include developing initiatives in favor of the most excluded sectors of the population. In this respect, the Latin American development bank approved non-reimbursable funds for the Project for Rural Connectivity in Salta Province . The agreement was signed today by CAF director-representative in Argentina, María Ángela Holguín, and Salta Governor Juan Manuel Urtubey.
During the signing Holguín said, "the project aims to promote and use innovative school teaching tools in 14 rural schools in Salta province by introducing information technologies and Internet access, with the aim of improving the training and educational performance of 1,000 students and 75 teachers, thus improving the quality of life of the rural population".
The project is executed by the Salta provincial government, one of the most important provinces in northern Argentina, which has begun an ambitious policy of connectivity and e-government.
The integrated development of rural populations is one of CAF's priorities.
As part of its support strategy for one of the poorest areas of Argentina, in recent years CAF has invested in road, rail and energy infrastructure in the region which includes Salta province.
The Project for Rural Connectivity in Salta Province replicates the experience of a CAF technical cooperation operation which is now being implemented in Tucumán. This new project incorporates the lessons learned and has been expanded with additional activities. The two projects are expected to lay the base for replication at national level.