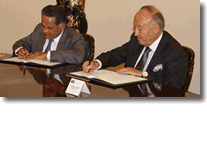 Agreement signed with Voluntary Dividend for the Community to benefit La Morán in Caracas
May 07, 2010
Non-reimbursable funds were granted to develop a sustainable model which can be replicated in other communities in Latin America
About 1,500 families live in this community in the west of Caracas
(Caracas, May 7, 2010). A technical cooperation agreement was signed with Voluntary Dividend for the Community (DVC) in the CAF headquarters. Under the agreement non-reimbursable funds were granted to the DVC for the Plan for Sustainable and Replicable Development of a Barrio through Infrastructure and Environmental Projects and Education Processes, which is part of its Building Community flagship program. The agreement was signed by Enrique García, CAF President and CEO and DVC President Nelson Rincón.
"The Agenda for Integrated Development proposed by CAF - García said after the signing - aims to achieve high sustained, sustainable and quality growth which stimulates, among other aspects, initiatives which promote greater equity and social inclusion and reduction of poverty with communities as leaders of their own development".
The CAF president added, "more than 7,000 people live in La Morán; this project promoted by private enterprise will give them significant support for solving the serious problem of trash handling and recycling of solid waste in their community". The project in this community aims to develop a sustainable model that can be replicated in other communities in Latin America.
DVC President Nelson Rincón said, "the agreement strengthens the Building Community Project, because the support of important international organizations, such as CAF, reaffirms the fact that this model is a tool which is applicable to the process of empowering developing communities, by improving the quality of life of their inhabitants with great potential for transformation by improving the urban environment, in relation to social behavior, dignity, respect and security among citizens"
The funds approved by CAF will be invested in three environment and infrastructure projects:
Trash collection, sorting, recycling and adaptation of the community environment
Clean up of a creek and restoration of its environment
Environmental cleanup of public spaces with community participation, focused on inclusion and training of youth, to lay the foundation for commitment to the planned projects and the desired sustainable development.
The project is a significant strategic step on the path to preparing the development master plan for La Morán community, and specific projects which demonstrate the impact of improvement in a community with these characteristics. The basis for the replicability of these projects will be documented for consideration in similar communities throughout Latin America.
Voluntary Dividend for the Community (DVC) is a private non-profit organization founded in 1964 with the mission of channeling the collective effort of private initiative into actions to improve the quality of life of poor communities through specific projects and in partnership with communities, social development organizations, authorities and businesses.