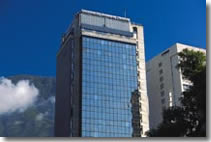 CAF launches 2010 Research Competition
May 07, 2010
This year's topic is Fiscal Policy and Development
All the information for applying is available at www.caf.com
Deadline for submission of proposals is May 31st
(Caracas, May 7, 2010)- CAF launched the ninth edition of its annual Research Support Program (PAI) competition. This year's topic is
Fiscal Policy and Development
. Academics, researchers and graduate students are invited to participate.
"The recent financial crisis has brought countercyclical fiscal policy to the fore as a tool for stabilizing the level of production and employment," CAF research director Pablo Sanguinetti said.
He added, "nevertheless, the level and composition of public expenditures and the tax structure are also essential for medium and long term development and growth." "In this respect, fiscal policy could be an effective tool against poverty and inequality, problems which persist in the countries of the region."
The Program is intended, although not exclusively, for researchers associated with Latin American universities, research institutes and other public and private institutions of the region. The invitation also includes assistant professors, researchers and graduate students from CAF shareholder countries who work in institutions outside the region and focus on issues related to Latin America.
The deadline for submission is May 31st. Proposals will then be evaluated by a jury of academics, policymakers and CAF researchers. Their decisions will be taken based on the quality of the submission and its relevance to Latin America. The results will be announced on June 28th 2010 and final papers must be submitted before January 15th, 2011.
Requirements must be sent by e-mail to: desarrollo@CAF.com CAF Research Support Program, Andean Development Corporation, Caracas, Venezuela. Guidelines for the preparation of the proposals can be found on the website www.caf.com. More information is available from Fernando Alvarez, e-mail: falvarez@caf.com ; or Alexandra Reuter, email: areuter@caf.com .
Previous editions of the competition have received, on average, 60 proposals from 12 countries as diverse as Australia, Spain, USA, France, India, and Latin American nations.
CAF will grant US$10,000 to selected proposals to cover research costs. Furthermore, it will also cover travelling and lodging expenses for a seminar in Caracas or a session to be held at the next annual LACEA meeting.