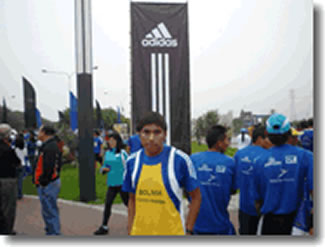 Outstanding performance by athlete Richard Mamani in Peru
(La Paz, May 11, 2010).- La Paz athlete Richard Mamani gave an outstanding performance in the Lima marathon held on May 2 with CAF support. Among the 1,849 athletes who raced in the 21K Half Marathon category, the Bolivian achieved his goal of finishing among the first ten, taking tenth place with a time of 1 hour 10 minutes 36 seconds. Local media called the international competition "the athletic event of the year."
The national long-distance runner competed against important athletes from a long list of countries (Ecuador, Colombia, Venezuela, Argentina, Brazil, Chile, United States, Mexico, Canada, England, Sweden, Germany, France, Norway and Australia) and was a worthy representative of his country in the event. After this sporting experience, he thanked CAF and the private sector for their economic and logistical support.
Mamani is considered one of the best sportsmen in the country. Last year he competed in the Odesur Games, the Alba Games and various South American events.
"In the 10 first kilometers, I kept a good pace among the top five, however in the climb after kilometer 11, I felt a cramp which affected my performance", Mamani said. Last year he won the "La Paz 3600" footrace, organized by CAF and the La Paz City Government.
Although in Lima, the athlete did not succeed in his goal of breaking his own record in the 21 kilometers (1 hour 5 minutes), he achieved a good time. The route of the race was through the main streets and avenues of Lima.
Richard Mamani was born in Avichaca, Omasuyos province, La Paz department, and now lives in El Alto city. He is one of the most important figures in Bolivian athletics and plans to return to participate in the La Paz 3,600 race, whose second event is already being organized by CAF.