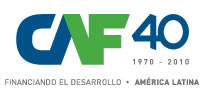 CAF celebrates its 40th anniversary and launches new visual identity
June 30, 2010
The Latin American financial institution presents its new logo and launches new website
(Caracas, June 30, 2010).- CAF, development bank of Latin America, celebrates its 40th anniversary with the launch of a revamped image expressed in the design of its new logo and the launch of a new corporate web site.
CAF President & CEO Enrique García said the values that have characterized the institution during its four decades were behind the new image, "for CAF this new visual identity represents an innovative, fresh, modern and dynamic profile, reflecting at the same time the degree of maturity of the institution after four decades of activities."
CAF, set up in the 1970s with the Andean countries as founders, has become, 40 years later, a solid institution consisting of 18 shareholder countries playing an important role in contributing to sustainable development and integration in Latin America. The Corporation is also a valuable bridge between the region and the rest of the world and an important generator of knowledge.
García said, "our record figures for operations are achieved in the context of an Integrated Development Agenda which aims to reconcile the objectives of macroeconomic stability, microeconomic efficiency and social equity in the countries of Latin America." He added that the institution is looking to the future and the sustainability of the projects promoted in favor of Latin American Development.
As part of the renewal, CAF presents its new website: www.caf.com whose design is based on the new technologies and more modern, flexible and friendly usability criteria.
The site reflects the attributes of the new CAF corporate image and underscores the policy of transparency which the institution is continuously promoting