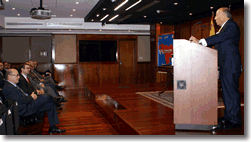 National Guarantee System and CAF promote improvements in Venezuelan MSMEs
June 17, 2010
The project Improvement of Quality in the National Reciprocal Guarantee System for Venezuelan MSMEs aims to raise levels of efficiency and quality of management in this sector
The objectiive is raise company productivity
(Caracas, June 15, 2010).- The project Quality Improvement in the National Reciprocal Guarantee System for in Venezuelan MSMEs was launched by CAF President & CEO Enrique García; Alfredo Riera Hernández, president of the National Reciprocal Guarantee Fund for Small- and Medium-sized Enterprises (Fonpyme); and Javier Domínguez, of the Spanish consulting firm Asecal. The project will contribute to raising levels of efficiency and quality of management in the Venezuelan MSME sector.
García said, "support for strengthening micro and SMEs is a major challenge of the CAF action plan, which is why, in addition to operations in favor of microfinance institutions, CAF is developing innovative mechanisms to finance small- and medium-sized enterprises."
He added, "the funds we are using to support this initiative come from the Spanish Technical Cooperation Fund, which reflects the fact that CAF is using its ability to attract funds from other investors, commercial and development banks, and public and private institutions from the region and other parts of the world."
Fonpyme President Riera Hernández said the project would optimize the service provided by the Fund and by guarantee associations to cooperatives, micro-, small-, and medium-sized enterprises, social production enterprises (EPS) and production units in the Bolivarian Republic of Venezuela.
He added that the agreement would enable the National Reciprocal Guarantee System (SNGR) to deepen standardization of the common processes of the 22 guarantee associations operating around the country, which have facilitated access to financing for traditionally excluded sectors, which are creating employment and helping to raise the quality of life of the population.
With CAF support, continuous improvement of these processes will increase the productive capacity of enterprises, stimulate innovative projects, and increase financing opportunities and improvements.
Fonpyme, which is attached to the People's Ministry of Planning and Finance, received in August 2009 the ISO 9001:2008 Quality Certification in the reguarantee area from the Fund for Quality Standardization (Fondonorma) and was recently subject to its first maintenance audit.