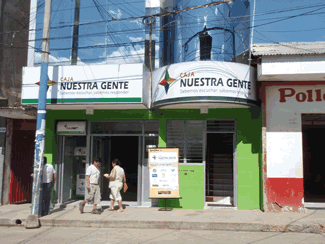 CAF approves US$5 million line of credit in favor of Caja Rural de Ahorros y Crédito Nuestra Gente S.A
July 26, 2010
The credit will support micro- and small enterprises in Peru
(Lima, July, 2010).– CAF approved a US$5 million line of credit in favor of Caja Rural de Ahorros y Crédito Nuestra Gente S.A. to finance micro and small enterprises in Peru.
CAF director representative in Peru Eleonora Silva Pardo said the mechanism would allow the bank to meet demand for credit from micro and small enterprises in the country.
"The granting of this line of credit is part of the process of expanding the services offered by the multilateral financial institution to micro and small enterprise sectors," she said.
In the framework of its Integrated Support Programs for Micro and Small Enterprises, CAF has signed agreements with several financial institutions, institutions for development of small and micro-enterprises (Edpymes), and municipal savings and loan banks, with the aim of significantly increasing its offering of products and financial services at the same time as expanding the financing options for small and micro enterprises.
Caja Rural de Ahorros y Crédito Nuestra Gente S.A. – institution controlled by the BBVA Foundation for Microfinance (FMBBVA) domiciled in Spain – formed after the merger in August 2008 of three financial institutions in different areas of Peru (Caja Nor Peru, Caja Sur, and Edpyme Crear Tacna).
The objective of Caja Nuestra Gente – based in the city of Trujillo – is intermediation of funds to support microfinance activity in Peru, for which it is authorized to generate and place funds. To carry out its activities, the bank has a network of 68 agencies covering the city of Lima, and the North, South and East of Peru. It also has 45 correspondent agencies with Banco de la Nación around the country.