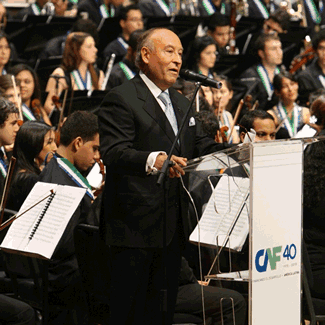 CAF celebrates its 40th anniversary with Gustavo Dudamel and 238 Ibero-American musicians
July 13, 2010
The CAF Latin American Youth Symphony Orchestra was formed exclusively for this 40th anniversary concert of the Latin American development bank.
Under the baton of maestro Dudamel and with a masterful performance by 238 young people from 18 countries, Latin American integration became reality.
At the end of performance, the public gave the artists a standing ovation several minutes long.
(Caracas, July 13, 2010).– Beethoven's Fifth, performed by 238 musicians who are part of the CAF Latin American Youth Symphony Orchestra, was the beginning of the great anniversary concert led by the internationally acclaimed Gustavo Dudamel in celebration of CAF's 40th anniversary and as stimulus for the Social Action through Music Program which CAF has promoted since 2000.
CAF President & CEO Enrique García said, "culture as a creative expression of peoples is part of the mission of our institution. Promoting initiatives such as the Social Action through Music Program – recognizing the human face of development – is a fundamental aspect of our backing for strengthening values and citizen culture in the region. "In this way we are reaffirming the importance which CAF assigns to the value of artistic expression as a mechanism of social transformation and Latin American integration."
Maestro José Antonio Abreu said, "I am delighted to see come true the dream of Enrique García, who with his vision as CAF head decided to accept this exciting challenge." The creation of the CAF Latin American Youth Symphony Orchestra is irrefutable evidence of a deep commitment and sends an exemplary message. "We have before us the extraordinary dimension achieved by that ideal, an orchestra with over 200 young people, representing 18 Latin American countries." This success has been achieved because CAF assumed the goal of development focused primarily on people, on the core of a social process based on the highest values that define the supreme dignity of individuals, he added.
The presentation of the CAF Latin American Youth Symphony Orchestra is an artistic event unprecedented in the history of classical music in the region. In total, 238 musicians aged between 16 and 24 took part: nine from Argentina, eight from Bolivia, seven from Brazil, four from Chile, nine from Colombia, three from Costa Rica, nine from Ecuador, four from Spain, two from Jamaica, four from Mexico, seven from Panama, seven from Paraguay, eight from Peru, three from Portugal, two from the Dominican Republic, two from Trinidad and Tobago, eight from Uruguay last week joined over 140 Venezuelans to make this dream of integration come true.
The masterfully performed repertoire was Symphony No. 5 of Beethoven (1770-1827), Danzon No. 2 of Arturo Márquez (1950-), and Dance from the "Estancia" Ballet of Alberto Ginastera (1916-1983). At the end of the program, the public – including founders, former CAF presidents, CAF officials and former officials, ministers from 10 countries, personalities from public and private sectors and the arts and Venezuelan society in general, politicians and academics, along with representatives of national and international media - rose from their seats to give a long ovation. The Orchestra then gave two encores: "Mambo" by Leonard Bernstein – from the musical "West Side Story" – trademark of maestro Dudamel and piece in which the young people expressed their joy and virtuosity rising from their seats, dancing and changing places with their colleagues in a demonstration of musical perfection.
CAF began the Social Action by Music Program a decade ago as an instrument for promoting the social inclusion of Latin American youth and their education in values through choral and orchestral practice. Inspired by the Venezuelan System of Youth and Children's Orchestras and supported by its creator, maestro José Antonio Abreu, the Program includes the Andean and Latin America Youth Symphony Orchestras, the Andean Choral Voices (VAC), the Traveling Andean Conservatory (CAI), and Andean String Instruments Workshop (TIAL).
So far 40,000 children and young people, 380 teachers and 50 string players from our continent have received integrated training under the Program.