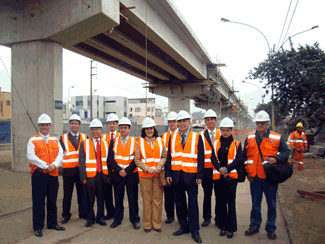 CAF Mission visits electric train works
A CAF delegation - headed by the vice president of Infrastructure and the director representative in Peru, Antonio Juan Sosa and Eleonora Silva Pardo, respectively - paid a visit to check on progress of the works of the Lima Electric Train.
The members of the mission were received by the executive director of the Autonomous Electric Train Authority (AATE), Oswaldo Plasencia, in the operating headquarters at La Videna Complex, where an explanation was given of development of the emblematic transport project in the capital. Later, the delegation inspected the works which are being executed along Avenida Aviación and Oval de Higuereta between the districts of San Luis, San Borja and Santiago de Surco.
Last March, CAF and the Republic of Peru signed a US$300 million loan agreement to finance the works which will complete and start operations of Line 1 of the Lima Urban Electric Train, in the Villa El Salvador-Avenida Grau section.