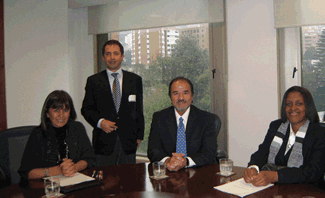 In Chocó, 350 families to receive support for training in productive projects
July 21, 2010
CAF will allocate non-reimbursable funds for this initiative which will benefit the inhabitants of Tadó and Cantón de San Pablo municipalities, Colombia.
First technical cooperation agreement under the CAF-Social Action agreement to support the JUNTOS strategy.
(Bogotá, July 21, 2010).– Under the agreement signed with Social Action of the Presidency of the Republic to support implementation of the JUNTOS strategy (Colombian government initiative to combat extreme poverty), a technical cooperation agreement was signed to help with training vulnerable communities in productive projects in Chocó department.
The agreement, signed with Corporación Empresarial y Ambiental (SHADDAI), supports the JOSUE project whose objective is to strengthen the productive capacity of 350 young people aged 14 to 26 and their families in the Tadó and Canton de San Pablo municipalities (Chocó) through psychological support and supply of technical and administrative tools.
"This project is expected to have a positive impact on communities in this area of the country which have difficulties such as lack of employment opportunities, psychological affectation due to situations of violence and displacement, and absence of the necessary conditions for sustainable economic and social development," CAF director representative in Colombia Víctor Traverso said.
Traverso added, "the local authorities of Tadó and Canton de San Paulo municipalities included the JOSUE project in their government plans, which gives a component of sustainability to the initiative."
CAF supports this initiative by contributing non-reimbursable funds from its Fund for Social and Human Development (FONDESHU) which promotes productive community projects.
SHADDAI, executing organization of the project, has been promoting development of Afro-descendent communities and other vulnerable groups since 1997 through programs targeted at young people and their families. Its activities have benefited over 3,555 people directly and nearly 16,500 indirectly.