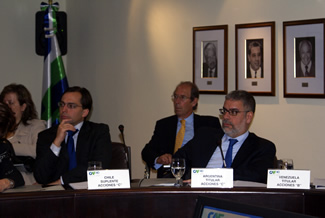 US$140 million for Argentine provincial roads
July 12, 2010
CAF approves funds for the regional road development program
The main objectives are integration, increased productivity, employment creation and balanced distribution of wealth to less-favored regions
(Caracas, July 9, 2010).- To finance new roads and upgrade existing ones in Chaco, Misiones and Formosa provinces, CAF approved a US$140 million loan for the Argentine Republic for the Regional Road Development Program which the government is implementing.
The program will contribute to the economic and social recovery of these northern provinces, facilitating their integration by investing in productive provincial, regional and international highways. This Program will be executed by the Ministry of Federal Planning, Public Investment and Services (MINPLAN) through the Unit for Coordination of Programs and Projects with External Financing (UCPyPFE).
"Since the most developed regions are concentrated in the center of the country - CAF President Enrique García & CEO said - early this decade the Argentine government adopted a policy of investment in infrastructure as a factor for developing the less favored provinces".
CAF supports this type of program because its objective is "balanced and sustainable regional economic development from the social and environmental point of view. Investment in integration infrastructure is a determining factor in promoting and consolidating growth in the more isolated or geographically more distant regions," Garcia said.
Of the total cost of the program of US$208 million, the CAF funds represents 67%, while the remaining 33% will come from local contributions. The CAF loan will finance the direct costs of the projects and technical assistance to the provinces, among other components.
CAF has made a significant contribution with actions in this partner country in favor of integrated development. In the 2005-2009 five-year period, the institution approved a total of US$2.1 billion, and in 2010 over US$430 million has been approved including this regional road development program.