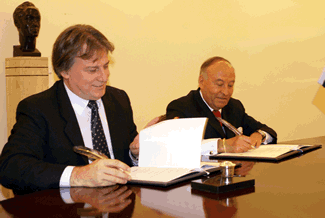 US$40 million loan agreement signed for Uruguay
July 12, 2010
The Uruguayan Government will use the loan to improve healthcare services in Maldonado and Punta del Este
The objective is to optimize the quality of life in this important tourism area
(Caracas, July 9, 2010).- A US$40 million loan agreement was signed today in CAF headquarters for execution of the project Treatment and Final Disposal of Effluents from the Maldonado-Punta del Este System. The agreement was signed by CAF President & CEO Enrique García, and Fernando Lorenzo, Uruguayan Minister of Economy and Finance, as guarantor of the loan granted to the Obras Sanitarias del Estado (OSE), the executing agency.
The project will improve the quality of life and promote the social, economic and tourism development of Maldonado department by improving sanitary and environmental conditions in the departmental capital and the tourist area of Punta del Este.
García said this support for the Uruguayan government was a priority for the Latin American development bank. "The government of this country, a CAF partner, plans to guarantee universal access and optimize the quality of drinking water and sanitation services at national level, thus improving the country's competitiveness, and environmental and social conditions."
Execution of the investments will increase sewerage coverage from 53% to 95%, benefiting a population of 417,000 inhabitants projected for 2035.
The total estimated cost of the project is US$83.2 million; the CAF loan represents 48%, while 52% will be funded by OSE.
The city of Punta del Este is the capital of Maldonado department, located 135 km from Montevideo. With 70 kilometers of coastline, the city is most important tourism destination in Uruguay.
The works will adapt the sanitary and health infrastructure to growing demand from this important tourism area and improve environmental quality for the inhabitants of Maldonado and neighboring localities.