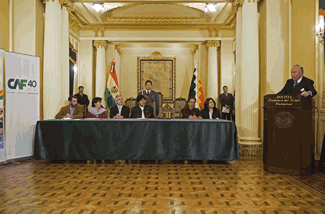 Bolivia formalizes increase in equity participation in CAF
(La Paz, August 4, 2010).- With the signing of Supreme Decree No. 581, the Plurinational State of Bolivia enacted the US$190 million increase in its participation in CAF capital. The increase follows approval by the CAF Board – formed by the ministers of the economic area and planning of member countries – of an increase in the capital of the organization to strengthen its financial capacity and foster development of the Latin American region.
During the most recent visit of CAF President & CEO Enrique García, Bolivian Development Planning Minister Viviana Caro announced the decree on the capital contribution. "As active partners, we are increasing our equity participation in CAF to facilitate the leveraging of funds with a view to developing programs and projects which benefit the region and to expand finance for Bolivia over the next few years," Caro said.
García thanked the minister for the backing which, "reflects the confidence that Bolivia has placed in the institution which – thanks to shareholder contributions, reinvestment of income and permanent presence on international financial markets – has achieved financial strength and important participation in the development of the Latin American region while becoming a reliable source of financing. He added that with contributions from partner countries, CAF now has a capital of US$12 billion to be completed over the next five years, which gives it the capacity to grant credit of over US$30 billion.
He reaffirmed his organization's commitment to the Bolivian State, which can continue to rely on CAF funds to address its priority needs for development. "CAF closely accompanies Bolivia and the funds we make available are intended to help the country not only in the current situation, but also to achieve socially inclusive development in the long term.
CAF-Bolivia relationship
Since Bolivia joined CAF 40 years ago, approvals have totaled US$7.17 billion mainly for economic infrastructure and integration, but also for the sectors of social development, financial systems and MSMEs. In addition, the financial institution granted the country – in the 1997-2009 period – a total of US$36.4 million in non-reimbursable cooperation funds for projects in the areas of governance, environment, social capital, culture and sports, among others.