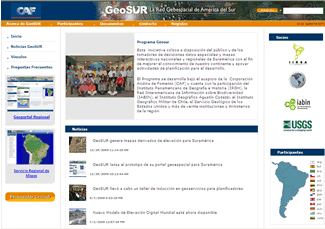 International award for CAF GeoSUR Program
August 24, 2010
The prize was awarded for contribution to development of geographic information systems in Latin America
GeoSUR offers online access to digitized spatial information on all South American countries
(Caracas, August 24, 2010).- The CAF GeoSUR Program received the award from the ESRI company, world leader in software development for Geographic Information Systems, for its contribution to development of the first South American GIS network. The award was presented during the recent ESRI International User Conference held in San Diego, California, United States.
The GeoSUR Program, led by CAF and the Pan American Institute of Geography and History (PAIGH) with technical support from the US Geological Survey (USGS), makes geographic information on South America and Panama available to the public, which is useful for analyzing critical variables for development planning.
GeoSUR offers the first one-stop portal with access to digitized spatial information on the countries of South America. Over 30 institutions from South America, mainly geographic institutes and environment ministries, participate in GeoSUR and make its spatial information available.
The Program is a response to the need for information which has been identified by the South American Regional Infrastructure Integration Initiative (IIRSA). Through the program CAF is contributing to improving knowledge of the region and supporting development planning activities which require the use of geographic information.
The system also offers a topographic processing service which models and generates data based on an elevation model of South America. This is the first service of its kind at global level because of its geographical area and high resolution. It can, for example, delimit watersheds, generate elevation profiles or slope maps for any area of South America.
Lastly, Geosur offers a mapping service for consulting spatial data on South America, with emphasis on infrastructure data, georeferenced information on projects promoted by the IIRSA Initiative and CAF, and information from the Condor System, which is an early evaluation tool focused on identifying risks and environmental opportunities for projects, created by the Latin American development bank.
Access to these services is free and does not require special software. All services are available at www.geosur.info and through the CAF site www.caf.com.