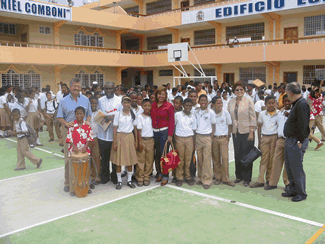 Promotion of sports and technical training in Esmeraldas
August 09, 2010
Agreement signed with Amiga Foundation for a technical-sports high school course to train young sportspersons and coaches in Esmeraldas province, and young people specializing in various productive technical areas.
(Quito, August 7, 2010).– CAF and Amiga Foundation signed a non-reimbursable technical cooperation agreement to implement the project Sports and Technical High School Course in the San Daniel Comboni Education Unit. The objective is to promote technical education in various disciplines of production and sport to prepare young people to meet the demand for technical staff in construction, industrialization, and food conservation, among others. The project will directly benefit 1,250 young people and 750 families in Esmeraldas canton.
CAF acting representative Constance Calderón said the agreement grants non-reimbursable funds to the Foundation to develop and improve education in Esmeraldas canton and entrepreneurial capacity among young people, which will boost the local economy.
This original initiative will be executed by an important partnership between public and private sectors with the backing of the Ecuadorian government through the ministries of Education and Sport. The project will improve the quality of life of the people of Esmeralda, and contribute to creating new opportunities for them.
By offering poor young people high quality forward-looking education, the San Daniel Comboni school has become a benchmark in the area. The funds granted will be used to train teachers, purchase materials and hire consultants for execution of the project.
Amiga Foundation is a non-profit institution created under the aegis of the Roman Catholic Church; its objectives are social assistance and betterment of people with low incomes through formal education, and arts and crafts.