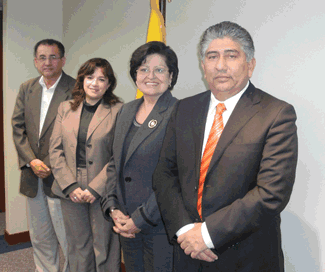 Support for better management in Manta municipality, Ecuador
August 05, 2010
Non-reimbursable funds will facilitate modernization of the land registry process in Manta to achieve sustainable and transparent management.
(Quito, August 5, 2010).– As part of the CAF Regional Program for Modernizing and Improving Local Management (Prameg), a non-reimbursable technical cooperation agreement was signed with Manta municipality for execution of the project "Design, Construction and Implementation of an Integrated Information System" to upgrade the performance and decisions of the Manta local government.
The agreement was signed by Constance Calderón, acting CAF representative in Ecuador, and Mayor Jaime Estrada of Manta municipality.
Calderón said, "tools like Prameg help municipalities improve and modernize their land registry systems with the aim of providing efficient land planning which for the taxpayer reflects transparency, quality and responsiveness; and for the municipality, financial autonomy, facilitating development of plans and execution of projects prioritized jointly with the community."
CAF set up Prameg in 2007 to build more efficient organizations with capacity to plan, manage, increase their income and coordinate their actions, receiving funds to ensure greater efficiency in the provision of their services and in response to the needs of their citizens, through a process of modernization of municipal land registry systems.