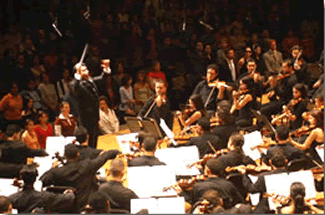 Venezuela receives loan to support Latin American musical culture
August 19, 2010
CAF announces approval of US$140 million for construction of the Simon Bolivar International Social Action for Music Complex as support of the Venezuelan National System of Youth and Childrens Orchestras, led by maestro Jos Antonio Abreu, which will become a reference point for musical development in Latin America.
(Caracas, August 18, 2010). Construction of the Simon Bolivar International Social Action for Music Complex in Caracas has become one step closer after CAFs announcement of approval of a US$140 million loan for the Caracas Complex.
The new center will strengthen processes of social inclusion and community integration developed through the Venezuelan National System of Youth and Children's Orchestras and Choirs. Opportunities for development of children and youth will open by creating spaces conducive to the formation of civic, ethical and moral values, appropriate use of free time, and participation in a constructive social life.
CAF President & CEO Enrique Garca emphasized the institutions interest in "supporting initiatives to improve the living conditions of children and young people in Venezuela and in the Latin American and Caribbean region, especially the most disadvantaged, through activities of social inclusion, community integration and human development."
The construction will have an area of over 36,000 square meters which will enable the National System of Youth and Children's Orchestras to expand and serve a larger population, particularly the socially most vulnerable sectors.
The Complex will have a Special Music Education Center to promote music as alternative therapy in managing and treating various disabilities and will offer a range of opportunities for developing potential, improving expressiveness and ability to interact, as well as a means for socializing, sharing and participating.
Garca said CAF promoted social inclusion and education in values by developing the musical skills of young people through orchestral practice inspired by the successful system conceived and led by maestro Jos Antonio Abreu, which was behind the start of the Social Action for Music Program a decade ago.
The CAF Program comprises the Andean and Latin American Youth Symphony Orchestras, the Andean Choral Voices (VAC), the Traveling Andean Conservatory (CAI), and Andean String Instruments Workshop (TIAL). To date the Program has promoted the integrated training of 40,000 children and young people, 380 teachers and 50 string players from the continent.
The CAF loan, to be executed by FESNOJIV, will finance, jointly with the funds contributed by the Bolivarian Republic of Venezuela, preparation of the designs and final engineering studies for the Complex and its urban environment Los Caobos Park and Amador Bendayn Boulevard construction and equipping of the building according to the architectural and technical specifications to be established.
The project has a total estimated cost of US$437.5 million, of which US$350 million comes from CAF financing, with US$140 million for the first stage approved on this occasion. The remaining US$87.5 million will be from local contributions by the Ministry of Peoples Power for Planning and Finance.