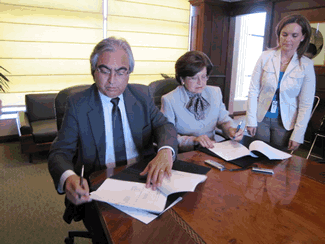 Autonomous Government of Pichincha seeks ISO 9001 Certification
(Quito, September 21, 2010).- With a view to promoting and developing internal operational and administrative efficiency, the Autonomous Government of Pichincha signed a non-reimbursable technical cooperation agreement with CAF, Latin America's development bank.
With the funds from the cooperation agreement, it will be possible promote and strengthen the Autonomous Government of Pichincha's institutional capacity for improving the provision of products and services for the benefit of the community and to certify the institution with the ISO 9001 quality standard.
To achieve this objective, the Pichincha Government will develop and implement standards of efficiency, quality, improvement, optimization, and transparency in processes aligned with its institutional mission that will make it possible to promote management by results and evaluate the sustained progress of impacts generated both by prioritized investment and by efforts undertaken in its different lines of work.
The institution's personnel will be given intensive training and continuous evaluations will be conducted of the results and their improvement. In addition, the activities that are agreed on will be formalized with a view to creating an institutional culture of behavior aimed at efficiency in government service.
As a contribution to the efforts being undertaken by the decentralized autonomous governments of other provinces in the country, the Government of Pichincha will repeat its experience once this process has been completed. The project will be executed over a period of two years.