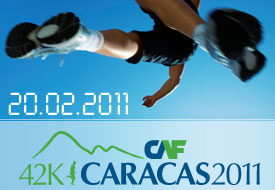 CAF Marathon - Caracas 2011, millions of steps for Latin American integration
September 13, 2010
On February 20 next year Caracas will host a marathon featuring runners from across Latin America.
The activity is supported by the Venezuelan Athletics Federation and sponsored by the International Association of Athletics Federations (IAAF) and the Ibero-American Athletics Association.
The event is part of the 40th anniversary celebrations of the Latin American development bank. Information is available at maraton.caf.com and www.caf.com/maraton
(Caracas, September 10, 2010).– "Millions of steps for Latin American integration" is the slogan with which CAF announced the news of CAF Marathon - Caracas 2011 to be held February 20 next year in Caracas as part of its 40th anniversary celebrations .
"With this event, CAF reaffirms its commitment to the community and its social responsibility by promoting activities that stimulate Ibero-American integration, with the participation of runners from all its shareholders countries," Luis Enrique Berrizbeitia, vice president and deputy CEO of the Latin American Development Bank, said.
Berrizbeitia said "the idea is that this becomes the first of many marathons of excellent quality which CAF plans to promote, alternating Caracas with other cities in the region, as part of its agenda of promoting sport and integration in Latin America."
The sports event will be held February 20 next year with two categories: Marathon (42.195 km) and Half Marathon (21.096 km). The route crosses four Caracas municipalities and has the active support of the mayors of Baruta, Chacao, Liberator, Sucre who are participating enthusiastically in the organization of the event. Security along the route will be coordinated by the People's Power Interior Ministry, whose authorities are working closely with CAF on this aspect, which is crucial for success of the race.
The competition has the official support of the Venezuelan Athletics Federation and sponsorship of the IAAF and the Ibero-American Athletics Association.
Runners from all CAF shareholders are expected to take part, especially Argentina, Bolivia, Brazil, Chile, Colombia, Costa Rica, Dominican Republic, Ecuador, Jamaica, Mexico, Panama, Paraguay, Peru, Portugal, Spain, Uruguay, Trinidad and Tobago and Venezuela. Athletes from other countries may also participate.