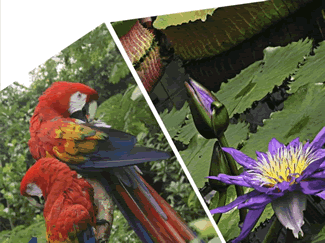 Deforestation can be controlled
September 13, 2010
CAF organizes the international seminar, Policies, strategies and action for controlling deforestation in Latin America, to be held in Brasilia on September 14 and 15
Brazil will present the government plan which has cut deforested hectares in the Amazon by over 50%.
(Brasilia, September 13, 2010).– In the certainty that the process of disappearance of forests can be reversed, with all the positive effects this would have on sustainable development and climate change, CAF, development bank, has organized the international seminar Policies, strategies and action for control of deforestation in Latin America, which will open tomorrow September 14 in Brasilia, with the backing of the Ministry of Environment.
"There will be two days of exchanges - CAF President & CEO Enrique García said - in which government actors from various countries of the region will have the opportunity to get to know the Brazilian experience in the area, and present their own initiatives on making synergies in favor of the environment."
García said the impulse for the seminar came from the CAF mission of sustainable development for Latin America through its Environmental Strategy and Bio-CAF Biodiversity program. "Coordinated regional initiatives have been developed to promote control of deforestation, conservation of ecosystems and biodiversity. This seminar will create a space where shareholder countries can exchange experiences and best practices."
According to the 2009 Report on the Millennium Development Goals, prepared by the United Nations, the forest area in Central Asia increased by 3.8 million hectares a year in the 2000-2005 period, whereas in the same period Latin America and the Caribbean saw their forest area shrink by around 4.7 million hectares annually, the highest deforestation rate on the planet.
"Contrary to general trends, in recent years Brazil has traveled along a very interesting path to combat the disappearance of forests in the Amazon, with important achievements in reduction of the annual deforestation rate," García said.
The Action Plan for Prevention and Control of Deforestation in the Amazon, government initiative launched in 2004, has cut deforestation from 2.7 million hectares in 2004 to 740,000 hectares in 2009, with promising progress in 2010. The objective of this successful initiative is to reduce deforestation by 80% by 2020 in relation to average deforestation in the 1996-2005 period.
The agenda of the International Seminar includes:
The critical problem of deforestation and experience in Brazil: Brazilian Deforestation Control Program;
Tax procedures for the Deforestation Control Program in Brazil;
CAF and Sustainable Development: CAF environmental strategy
Experience of the Amazon without Fire project
Emission inventories based on analysis of vegetation cover in Africa
Amazonian forest management in Suriname
Amazon Fund - International Climate and Forest Es posible controlar la deforestación