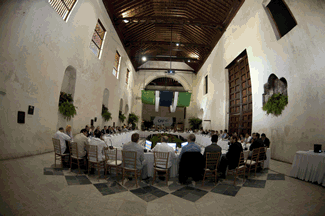 September 14, 2010
The international seminar Local development and quality of life in cities and regions, organized by CAF, brought together over 60 mayors and international experts for two days of discussions
CAF presented its Report on Economy and Development, RED 2010
(Caracas, September 9, 2010).- The walls of the city of Cartagena were witness to two days of reflection and debate on a topic of global dimensions, which began with the most specific: local development and quality of life in cities and regions. The international seminar, organized by CAF, was held in Cartagena, Colombia, with the articipation of over 50 mayors, along with researchers, academics and officials from the national and regional governments of 16 countries of the Americas and Europe.
"The presentation of the results of the sixth edition of the CAF Report on Economy and Development - which focuses on an issue which directly affects governance in Latin America: decentralization and local development - was the starting point of the discussion," CAF President and CEO Enrique García said. The Report is one of the actions taken by the institution to share knowledge on Latin America and promote reflection on key issues for the region's development, he added.
One of the findings presented in the RED was the huge gap in levels of production, income and well-being within countries. "Local and regional authorities can play a very active role in the design and implementation of economic development policies, in cooperation with the private productive sectors and the community," the CAF president said.
Leonardo Villar, CAF chief economist, said a successful strategy had to be comprehensive, act on all the determinants of development and be focused from the territory. "This strategy is not necessarily limited by formal policies, such as budgetary decisions on expenditure and taxes or regulatory actions, because a locality's degree of competitiveness also depends on the presence of "soft institutions" formed by citizens' assemblies, residents' associations, business chambers, study and cultural centers, etc. which help build consensus on policies, release information and promote public-private cooperation."
Two days of deep reflection
The International Seminar on Local Development and Quality of Life in Cities and Regions was organized by CAF with the aim of contributing knowledge to an understanding of local and regional development patterns and identifying public policy options which reconcile economic growth with the balanced development of the territories within economies.
The topics covered were:
Institutions, provision of public goods and local development;
Decentralization, citizen participation and local development;
Productive strategies and provision of public goods for quality of life in cities;
Citizen security from the territory;
Multilateral experience in citizen security.
This dynamic created a constructive atmosphere for the discussions and comments. The speakers were: from CAF, Enrique García, president and CEO; Leonardo Villar, corporate vice president, Development Strategies and Public Policy and chief economist; Pablo Sanguinetti, director of socioeconomic research and academic director of RED2010; Michael Penfold, director of Public Policy and Competitiveness; Daniel Ortega, research economist; and Ana María San Juan, senior executive.
Other participants and commentators were James Robinson and Rafael Di Tella of Harvard University; Diego Puga, research professor at the Institute for Advanced Studies (IMDEA); Roy Bahl, economics professor at Georgia State University; Andrés Rodríguez-Pose, economic geography and research professor at the London School of Economics and IMDEA; and Alejandro Gaviria, professor at the University of the Andes, Colombia.