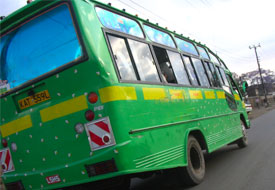 Presentation of Urban Mobility Observatory
September 13, 2010
The Latin American development bank will issue a report on the transport and mobility situation in 15 cities in nine countries of the region.
(Bogotá, September 13, 2010).- CAF will present the Urban Mobility Observatory (OMU) for the region at the international workshop "Urban Mobility and Transport in Latin America: challenges for sustainable development," to be held September 14 and 15 in Bogota with the participation of international experts and local authorities.
"The Observatory for Urban Mobility for Latin America and the Caribbean "is a solid, reliable and up-to-date information tool on the current situation of transport and mobility in the region, which will contribute to policymaking in this area," CAF President & CEO Enrique García said.
The results of the analysis of 15 metropolitan areas in nine countries in the region have been condensed in a regular publication and website with information from Bogotá, Buenos Aires, Belo Horizonte, Caracas, Mexico City, Curitiba, Guadalajara, León, Lima, Montevideo, Porto Alegre, Rio de Janeiro, San José, Santiago, and Sao Paulo.
To develop the Observatory, CAF worked hand in hand with institutions involved in research in the field of urban transport in the region, including the Latin American Public Transport Association (ALATPU), Mexican Center for Sustainable Transport (CTS), and the National Public Transport Association in Brazil (ANTP).
Representatives of these organizations, along with managers and technicians from the public and private sectors in Colombia, will meet for two days in Bogotá to evaluate the findings of the OMU, and on that basis evaluate policies, development plans, and major success stories for the better management of mobility in the cities analyzed.
Participants include Germán Cardona, Colombian transport minister; Enrique García, CAF president and CEO; Antonio Juan Sosa, CAF vice president of infrastructure; Eduardo Vasconcellos, advisor to the Brazilian National Public Transport Association; and Edgar Enrique Sandoval, consultant and former general manager of Transmilenio, Bogota.