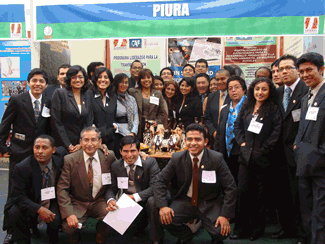 581 Peruvian leaders trained in civic values, civic responsibility, and leadership
October 07, 2010
CAF, in alliance with the USMP's Government Institute, is promoting the Leadership for Transformation Program.
Training was given to leaders in Amazonas, Apurímac, Arequipa, Ayacucho, Cajamarca, Callao, Cusco, La Libertad, Lima, and Puno.
(Lima, September 2010).- A total of 581 Peruvian leaders received training in civic-democratic values and civic responsibility under the "Fifth Leadership for Transformation Program" promoted by CAF in alliance with San Martín de Porres University's (USMP) Government Institute.
Participating in the closing ceremony were Elvira Lupo, CAF's director of governance and technical cooperation; Jaime Palacios, the director of the USMP's Government Institute; and Eleonora Silva, CAF's director in Peru.
During this fifth Leadership for Transformation Program in Peru, training was given to social, cultural, indigenous, peasant, trade union, and micro and small enterprise representatives inChachapoyas (Amazonas), Abancay (Apurímac), Arequipa, Ayacucho, Chota (Cajamarca), Callao, Cusco, Trujillo (La Libertad), Lima and East Lima, and Juliaca (Puno).
The Leadership for Transformation Program - a CAF initiative that commenced in Colombia in 2002 and has since been successfully repeated in Bolivia, Ecuador, Peru, Venezuela and, this year, in Panama- seeks to identify natural leaders in the region and lay the foundations for a new style of leadership by enriching their system of values and providing them with tools so that they can assume, with ethics and civic and democratic mindedness, leadership responsibilities in the future, in keeping with the reality of their context.
The strategic value of the program stems from the importance of training as a mechanism for strengthening democratic governance and improving the citizen's circumstances and his environment.
The main objectives of the program are: to identify, select, and train natural leaders in order to generate a transforming leadership that handles tools and has the technical capacity for detecting the community's needs and also for formulating actions that contribute to their better performing their civic responsibilities.
It is worth remembering that, last year, 519 natural leaders from 12 regions of Peru were successfully trained in a program that aims to provide participants with a comprehensive range of skills to allow them to perform as transmitters of know-how and values in favor of progress, freedom, and equality for all, so bringing about acceptance of plurality and interculturality.
At the end of 2010, a total of 28,861 leaders from 2,891 municipalities in six countries of the region had been trained under the Leadership for Transformation Program. This is of transcendental importance for the strengthening of democratic governance, as this program seeks to fortify, through training, the country vision and civic-democratic values of natural leaders while complementing their knowledge with tools and instruments that will enable them to perform their civic duties and community activities with responsibility, integrity, and an awareness of the situation in their country.