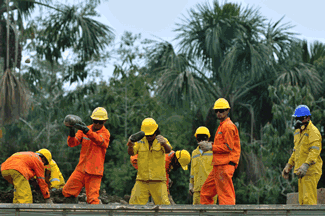 Approval of a USD 50 million line of credit for Graña y Montero
(Lima, October 13, 2010).- CAF, Latin America's development bank, approved a revolving line of credit for up to USD 50 million in favor of GyM S.A. and its subsidiaries.
CAF's director in Peru, Eleonora Silva, maintained that the approval of this line of credit in favor of GyM S.A. will serve to issue letters of guarantee required to cover liabilities under contracts entered into by the company or any of its subsidiaries.
She highlighted that this company has a long track record and extensive experience in undertaking construction and infrastructure works for different sectors and industries, both public and private, of considerable relevance in Peru.
Silva Pardo also pointed out that GyM S.A.'s sustained growth means that the company needs to be able to count on additional lines of credit to accompany its growth.
"That is why we consider CAF's support of the Graña y Montero Group via this borrowing facility so valuable and important, a borrowing facility that complements the facilities for issuing guarantees granted them by the banks," she commented.
GyM, founded in 1933, is Peru's oldest and largest construction company. It offers its services to all companies in the country and the rest of Latin America. It has developed innumerable projects in all sectors of construction: infrastructure, energy, buildings, mining, oil, industry, and sanitation, among others. GyM has formed partnerships with the world's largest construction companies in the execution of different projects, among them Fluor, Dumez GTM (Vinci), and Aker Solutions. It has also developed projects under different project execution modes, including with or without financing, turnkey, and EPC (Engineering, Procurement and Construction).