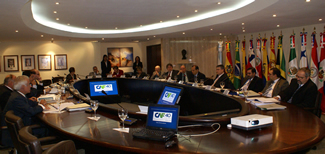 Ecuadorian social sector obtains approval for USD 250 million
October 07, 2010
CAF announced that the funds will contribute to the development of the Annual Investment Plan 2010-2011 being implemented by the Government of Ecuador.
(Caracas, October 1, 2010).- As part of its contribution to reducing poverty in Latin America, CAF approved USD 250 million for the Support Program for Public Investment in Ecuador's Social Sector (PAISSE), to be implemented by Ecuador's Ministry of Finance.
"The Government of Ecuador has promoted a major public investment program with the purpose of contributing to sustainable development by generating structural changes that will make it possible to improve the living conditions of the most vulnerable sectors," stated Enrique García, CAF's executive president.
"Following those guidelines –explained García- for the period 2010-2011, the Government of Ecuador has planned investment in social sectors amounting to USD 2.5 billion, so increasing the social investment of previous years."
García added that PAISSE will be a crucial tool for executing the Annual Investment Plan, an instrument that plans and prioritizes public investment with a view to ensuring maximum economic, social, and environmental yields. In practice, this will translate into new works for primary and secondary schools, irrigation, water, and sanitation projects, and refuges, among other things.
CAF's executive president pointed out that PAISSE will focus on the following sectors: education, agriculture, health, citizen security and social rehabilitation, urban development and housing, and economic and social inclusion, prioritizing investments in social infrastructure works. The impact of these projects will be evaluated through the National Planning and Development Secretariat (SENPLADES).