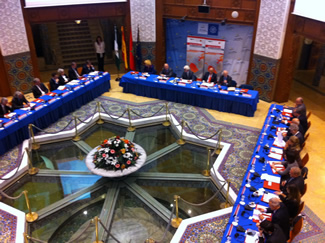 Meeting to discuss Euro-Latin American relations in Seville
October 29, 2010
The meeting organized by CAF and the Elcano Institute was opened in the presence of honor of the Prince of Asturias
(Seville, October 29, 2010).- Seville was the venue chosen to host the First Euro-Latin American Meeting, an initiative of CAF - Latin American development bank - in a joint effort with the Royal Elcano Institute and the Junta de Andalusia. The event was opened in the presence of honor of His Royal Highness, Felipe Prince of Asturias.
The meeting, organized as part of the celebration of CAF's 40th anniversary, was attended by leading economists, politicians and academics from Europe and Latin America. For the next two days, they will discuss the major challenges in Euro-Latin American relations and the transnational problems associated with urban insecurity and organized crime.
During the opening of the event, CAF President & CEO Enrique García stressed the importance of bi-regional relations and the search for a new approach to common problems, for two regions which are facing fresh challenges and processes of change.
García said it was vital to recognize the complementarities between Latin America and the European Union and the need to build an integrated agenda which goes beyond economic and commercial issues and includes key topics, such as new mechanisms for cooperation, institutional strengthening, new technologies, social inclusion and a common environmental agenda.
Gustavo Suárez Pertierra, president of the Royal Elcano Institute, said this was an opportune moment for these meetings and expressed his satisfaction with the strategic alliance which the Institute had formed with CAF to share analysis of strategic issues.
In his speech, Prince Felipe confirmed the commitment to deepening relations between Spain and Latin America and the Caribbean, which are "one of the top priorities of our foreign policy, in fact they are key factors in the development and projection of Spain's own identity." These efforts were aimed at making Latin America into a partner of the first order for the European Union, he added.
Finally, he emphasized the academic contributions of the Royal Elcano Institute to international relations, together with CAF as Latin American development bank. "During 40 years of operations, CAF has become a powerful regional financial organization with presence in various parts of the globe," Prince Felipe said.