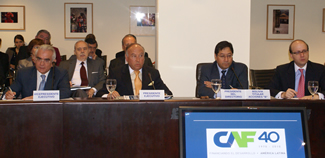 More than USD 300 million approved for Argentine railway system
October 01, 2010
CAF approved USD 326 million for the recovery and upgrading of the General Belgrano Railway
(Caracas, October 1, 2010).- CAF, Latin America's development bank, today approved USD 326 million for the Republic of Argentina earmarked for the recovery and upgrading of a major corridor of the General Belgrano Railway.
"CAF has accompanied the Argentine Government's strategy with regard to investments in sectors that drive the country's growth," stated Enrique García, the multilateral financial agency's executive president. "Between 2005 and 2009, more than USD 2.4 billion were approved, whereas funds granted to Argentina during 2010 come to USD 790 million," he noted.
Approval of the USD 326 million for the General Belgrano Railway Recovery and Upgrade Project is intended to strengthen overland ties between an important agro-industrial region and the country's main ports.
The project, which comes under the Initiative for Integration of South American Regional Infrastructure, will be executed by Administración de Infraestructuras Ferroviarias, Sociedad del Estado, the agency in charge of administering state-owned railways. It contemplates the revamping the 1,645-kilometer corridor of the Belgrano Cargo Branch Line that goes from Joaquín V. González in Salta Province to the port of Barranqueras in Chaco Province and Rosario in Santa Fe Province.
CAF's Executive President explained that what is sought is "to improve the region's connectivity with Argentina's main ports, so helping to increase the competitiveness of this important agro-industrial hub by offering alternatives for transporting its products."
The total cost of the project is estimated at USD 408 million, 80% of which will be financed by CAF and 20% by the Argentine Republic.