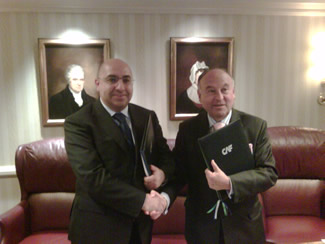 Signing with Russian development bank strengths bridges with Latin America
October 18, 2010
Memorandum of understanding signed with Russian National Development Bank (Vnesheconombank)
The agreement aims to stimulate investments, trade and bi-regional cooperation
(United States, October 18, 2010). CAF's commitment to its 18 shareholder countries to open new horizons and expand relations with other regions is reflected in the Memorandum of Understanding signed by Enrique García, president & CEO of the financial institution, with Anatoly Ballo, vice president of the National Development Bank of the Russian Federation (Vnesheconombank).
"The important role the BRICs are playing in the world economy has created new international economic and financial relationships," García said. "The agreement we have reached with the Russian institution means that CAF is continuing to consolidate itself as a valuable bridge between region and the rest of the world."
Anatoly Ballo emphasized CAF's leadership in Latin America and its work in recent years, especially its interest in strengthening cooperation between the two institutions in favor of the development of the two regions.´p/> The memorandum is intended to deepen cooperation between the two banks and explore joint working mechanisms, such as cofinancing lines of credit and exchanging information. The Memorandum is the outcome of García's visit to Moscow and St Petersburg in late 2009 and is an opportunity to stimulate investments, trade and cooperation between Latin America and the Russian Federation.