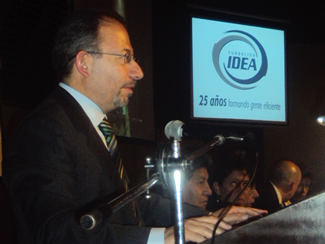 Sixth Leadership for Transformation Program graduates 564 Bolivian leaders
October 07, 2010
CAF's Leadership for Transformation Program, in alliance with Fundación IDEA, has trained a total of 3,698 Bolivian leaders in the past six years.
(La Paz, October 1, 2010).- CAF, Latin America's development bank, and its local partner, Fundación IDEA, yesterday concluded the sixth Leadership for Transformation Program with the graduation of 564 Bolivian leaders, who, in the last six months, have received training in subjects such as Negotiating, Dispute Management and Settlement, Human Rights and Democracy, Governance, Citizen Participation, Public Administration and Environment in the Bolivian context.
At the graduation ceremony, CAF's representative in Bolivia, Emilio Uquillas, stated that CAF's objective is to identify and strengthen the skills of natural leaders for them to exercise transforming leadership "capable of identifying the needs of the communities they represent and heading up actions that contribute to improving the performance of their civic duty in democracy."
The program that CAF is promoting in six shareholder countries through alliances with educational establishments seeks to identify natural leaders in the region and lay the foundations for a new style of leadership by enriching their system of values and providing them with tools so that they can assume, with ethics and civic and democratic mindedness, leadership responsibilities in the future, in keeping with the reality of their context
Representatives of social, cultural, indigenous, peasant, trade union, and micro and small enterprise organizations from both capital cities and rural localities took part in this year's program. Of the 564 participants, 29% came from rural areas and 71% from urban areas. This year the program was conducted with participants from 58 municipalities in Bolivia's nine departments.
Leadership for Transformationis a program promoted by CAF in shareholder countries and to date it has trained a total of 18,000 leaders from 2,200 municipalities. The training takes six months and focuses on three main core themes: the individual, the collective, and the public, seeking to strike a balance between State and community applying the principles of interculturality, social and gender equality, and environment.
CAF and Fundación IDEA have been conducting this program since 2004, from which 3,698 Bolivian leaders from nine departments have graduated in the last six years.
CAF es una institución financiera latinoamericana constituida en 1970 con el objetivo de impulsar el desarrollo sostenible y la integración regional. Promueve el crecimiento sostenido, sostenible y de calidad en la región, mediante el financiamiento de proyectos de los sectores público y privado, y la provisión de cooperación técnica y otros servicios especializados. CAF, conformada por 18 países de América Latina, El Caribe, Europa y 14 bancos privados, es una de las principales fuentes de financiamiento multilateral y un importante generador de conocimiento para la región. Para mayor información visite www.caf.com.
Fundación IDEA is an institution that was established for the education and training of professionals, technicians, citizens and leaders who are capable of responding to the new challenges of transforming the State, the market, and civil society.