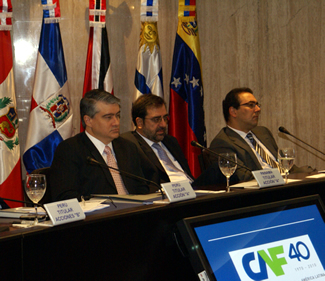 USD 120 million approved for Panama
October 06, 2010
CAF, Latin America's development bank, approved resources that will benefit the 1.2 million inhabitants of Panama City with the Panama City and Bay of Panama Cleanup Project.
(Caracas, October 1, 2010).- Given the rapid urban development of Panama City in recent decades, which has resulted in a deficit in drainage networks and the contamination of the bay of Panama that have brought in their wake health and environmental problems, the Panamanian authorities have been working on solving the problem and are to execute the
Panama City and Bay of Panama Cleanup Project
for which CAF today approved USD 120 million.
"This project has a high social content –explained Enrique García, CAF's executive president –as it seeks to improve sanitary conditions by reducing the pollution in rivers and urban watercourses in Panama City and the environmental recovery of the bay by building a Waste Water Treatment Plant, which will benefit more than a million people who live in the Panamanian capital."
García concluded by pointing out that this is a fresh contribution by Latin America's multilateral development bank and that, in the specific case of Panama, "CAF has approved a total of just over USD 1 billion in the past five years plus USD 540 million in 2010, including the approval we are announcing today."
This project, to be executed by the Ministry of Health, contemplates the construction of 135 kilometers of sanitary drainage networks and the corresponding residential connections; sanitary sewers for the proper conveyance and channeling of sewage; and the design and construction of an interceptor tunnel, 8.2 kilometers long by 3 meters in diameter, and the corresponding pumping station. It also includes the design and construction of a Waste Water Treatment Plant.
The total estimated cost of the project is USD 538 million, 22% of which will come from CAF's loan, 67% from other sources of financing, and the remaining 11% from local counterpart funds.