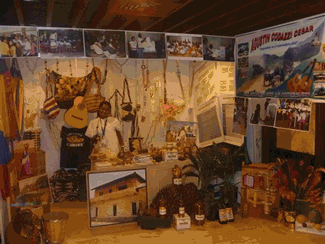 1,050 leaders trained in civic values, citizenship and leadership in Colombia
November 08, 2010
In alliance with ESAP, CAF promotes the Leadership for Transformation Program
Leaders from the Caribbean, Pacific, Orinoquia and Andean regions of Colombia received training
(Bogota, October 29, 2010).- In Colombia, a total of 1,050 leaders were trained in civic-democratic values and citizen action during the sixth phase of the CAF Leadership for Transformation Program in alliance with the Higher School of Public Administration (ESAP).
"The Leadership for Transformation Program, which CAF began in Colombia in 2002 and which has been successfully continued in Bolivia, Ecuador, Peru, Venezuela, and Panama, identifies and trains natural leaders to lay the foundations for a new style of leadership, by enriching their value systems and equipping them with the tools they need to assume responsibilities for ethical leadership in the future, with civic and democratic sensibility, in keeping with the reality of their context," CAF technical cooperation director Elvira Lupo de Velarde said.
In the sixth program, natural leaders were trained from civil society, including labor unions, social, sporting, cultural, campesino, student organizations and associations of micro and small enterprises in 23 training centers located in the Caribbean, Pacific, Orinoquia and Andean regions of Colombia. The training process targeted natural leaders involved in local government such as police, doctors, and teachers. Efforts were made to expand coverage, especially to Providencia Island and some municipalities of Vichada department in Orinoquia.
After training the leaders act as multiplier agents through the social work which is entrusted to them under the Program and in certified sessions take the knowledge they have acquired to 4,000 citizens who also need this support.
The Program's strategic value lies in the importance of training as a mechanism for strengthening democratic governance and improving the situation of citizens and their environment.
The main objective is to identify, select and train natural leaders in an effort to expand their vision of country, strengthen civic-democratic values and supplement their knowledge with tools and instruments, enabling them to exercise their citizenship and take community action with responsibility, integrity and awareness of the reality of their communities.
By the end of 2010, a total of 5,619 natural leaders in Colombia will have been trained by the CAF Leadership for Transformation Program, which is part of the actions the multilateral financial institution is taking in the area of governance.