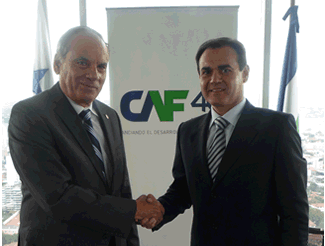 Agreement on technical support for institutional strengthening signed with IDAAN of Panama
November 24, 2010
The funds will be used to contract consulting firms for modernization of the Instituto de Acueductos y Alcantarillados Nacionales de Panamá (IDAAN) in an effort to speed up its La Bahía Sanitation Program.
(Panama City, November 24, 2010).- CAF - the Latin American development bank - and the Panamanian Instituto de Acueductos and Alcantarillados Nacionales (IDAAN) signed a technical support agreement for modernization of the institution. The agreement was signed by Rubén Ramírez, CAF director representative in Panama, and Manuel González Ruiz, executive director of IDAAN.
The objective is to support the strategy of institutional strengthening and modernization of IDAAN as part of the US$100 million loan requested from CAF by the Panama government for the Investment Program for drinking water and sanitation in Panama province.
Rubén Ramírez, director de CAF-Panama, said the CAF technical support and cooperation consisted of contracting consulting firms to help achieve the Program's objectives, including advice on the design, start up, permanent monitoring of execution of the work, and identification of alternatives or reforms to improve the administrative and operative performance of the Program.
"Our objective as a financial institution at the service of the development of the countries of Latin America is to support execution of projects which modernize the infrastructure of the country and raise the living conditions of its inhabitants," Rubén Ramírez said.
IDAAN Executive Director Manuel González Ruíz said the agreement "offers the opportunity to obtain funds to undertake a series of projects which will result in a drinking water supply and upgrading of the sewerage system in various areas de Panama, mainly the city itself. It will also strengthen coordination of the projects of the institution, which will be responsible for guaranteeing execution and the efficient use of the funds."