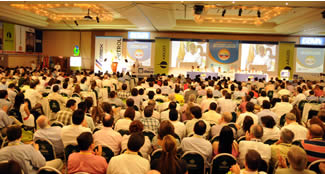 Bogota to execute Urban Freeways Program proposed in CAF study
November 26, 2010
The Urban Freeways Program to be executed by the Capital District is 100% self-financing and will release public funds for other priority projects.
After execution of the planned concessions, 170 kilometers of new roads will have been put into operation.
(Bogota, November 26, 2010). The authorities of the Colombian Capital District approved execution of the Urban Freeways Program presented by CAF - Latin American development bank – on the third day of the seventh Colombian Infrastructure Congress.
The Program presented by CAF consists of 13 road corridors with a total length of 169.48 kilometers and a combined cost of approximately US$2.605 billion.
Key Impact of the Program
The program will have a fundamental impact on Colombian territory by contributing to the Land Management Plan (POT), reducing the deficit in the arterial road network and cutting management costs for the Capital District.
With numerous reliable supporting studies, the impact of the Urban Freeways Programs can be defined by the following key elements.
100% self-financing. The private concession holders will also be a decisive support for guaranteeing that the roads are maintained in first class condition.
Reduce congestion and rationalize the use of private vehicles by separating their fast lanes with payment each time drivers use the service.
Contribute to the economic growth of the city by earning revenue for the Capital District and improving the state of its infrastructure. The impact will extend to the rest of the country where CAF will be available to support studies for similar initiatives in other regions of the country.
Achieving these results requires a full commitment from municipal and national authorities, which need to set up an organic structure responsible for structuring, promotion, regulation and supervision of the Program, along with changes to traffic rules and guarantee the satisfactory functioning of the National Single Traffic Register (Runt).
With the satisfactory development of the studies and start up of the project, the first freeway should be in operation in about six years, while the entire Program will take 10 years to complete.
With this initiative CAF reaffirms its permanent long-term commitment to supporting infrastructure development in Latin America and specifically Colombia, and opens an important space for other important cities to evaluate this type of program, tasks for which CAF is ready to offer strong support.