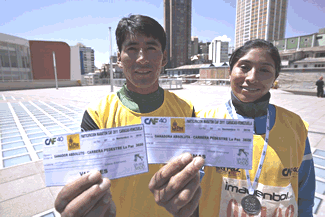 Bolivian athletes' participation in CAF Marathon - Caracas 2011 assured
November 12, 2010
The winners of the La Paz 3600 10K race to test their endurance in the 42K
(Caracas, November 11, 2010).- On Sunday November 7 it was not only Caracas athletes who ran the 10 K, in Bolivia, over 7,500 runners took part in the second La Paz 3600 10K race organized by CAF - Latin American development bank - and the La Paz Autonomous Municipal Government. The inhabitants of the Bolivian capital showed once again that the altitude (3,600 m) not only does not prevent the healthy practice of sport but in fact strengthens athletes.
The next challenge for Eduardo Aruquipa and Beatriz Quispe, who recorded the best times in the 10K, will be the 42 km CAF Marathon - Caracas 2011. As absolute winners of the race they will receive CAF support to participate in the marathon the institution is organizing in Caracas, Venezuela, on February 20. Aruquipa said "I am very happy because I will go to Caracas to take part in the CAF Marathon. I will be able to train to represent Bolivia."
The CAF Marathon - Caracas 2011 – millions of steps for Latin American integration – is one of the financial institution's initiatives to celebrate its 40th anniversary. The event is in line with CAF's interest in promoting social development through sport, and creating new spaces for integration.
The CAF Marathon - Caracas 2011 has the support of the Venezuelan Athletics Federation and the backing of the International Associations of Athletics Federations (IAAF) which will certify the route for international status. This status will give elite national and international runners the opportunity to obtain the marks they need to qualify for the Pan-American Games in Guadalajara, Mexico, in 2011.
Alexander Semprún, Venezuelan elite athlete with international experience, evaluated positively the fact that competitors in the CAF 2011 Marathon will be able to obtain marks for the Pan American Games without having to travel abroad. Bolivian Eduardo Aruquia said he wished to record the time needed for his entry in the Mexican event and the CAF Marathon has come at exactly the right time for him.
Runners may choose between two routes in Caracas: 42 and 21 kilometers. These distances are the full and half marathons, according to the Olympic tradition since 1896 and international sport authorities. All the information on the CAF Marathon - Caracas 2011 is a available at: http://maraton.caf.com .