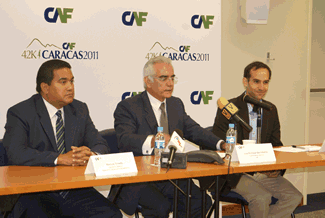 CAF–Caracas 2011 Marathon for all Ibero-America - not long to go
November 25, 2010
On February 20 the streets of Caracas will be filled with millions of steps for Ibero-American integration with the holding of the Ibero-American marathon
(Caracas, November 25, 2010).- The CAF–Caracas 2011 Marathon, millions of steps for Ibero-American integration is an international sports event to be held in the Venezuelan capital, with two route options, 42.195 km and 21.096 km, distances which correspond to the Marathon and half-Marathon, following the Olympic tradition since 1896 and the international sports authorities.
The Marathon is an initiative of CAF – Latin American development bank – as part of its 40th anniversary celebrations. The event is in line with the institution's interest in promoting human and social development through sports activities, and creating new spaces for integration of the region.
The CAF Marathon is also backed by the Venezuelan Athletics Federation and the International Association of Athletics Federations (IAAF), which will certify the route. In the organization of the event, CAF is working in coordination with the Hipereventos company. The event has also received the sponsorship of Nike and Gatorade.
The international certification of the competition will offer elite runners the opportunity to obtain the marks they need to qualify for the Pan-American Games in Guadalajara, Mexico, in 2011.
To guarantee the security and physical integrity of all participants, CAF has formed partnerships with various public authorities to unify and coordinate logistics. The following authorities are committed to the success of the initiative: Ministry of People's Power for Internal Relations and Justice, Metropolitan Police, National Police, Civil Defense, Traffic Police, fire department, and the local governments and police of Baruta, Chacao, Libertador and Sucre municipalities which are on the route of the Marathon.
The CAF–Caracas 2011 Marathon is not just an event for sports fans but also for the entire community. It will be a World Class Marathon which also promotes the attractions of the city of Caracas for tourism. It is planned as an opportunity for getting to know spaces and people where runners and participants in the recreational activities organized around the event feel they are taking part in a festive day for the entire community.
Registrations are now open for the two routes (42.195 km or 21.096 km). Payment can be made by bank deposit or cash in authorized stores. A third option of local and foreign credit cards will soon be announced through the web page: https://maraton.caf.com. But anyone who wishes to be sure of their participation in the Ibero-American sports event can do so right now.
More information on registrations for the CAF–Caracas 2011 Marathon, to be held February 20, can be found on the event web page, along with all the information on the route, the altimetry?? , rules, and even training plans so that everyone who wishes can join in the challenge.
CAF–Caracas 2011 Marathon is a CAF initiative as part of its 40° Anniversary celebrations. The aim is to promote sport as a means for integrated development and strengthening integration. For more information visit http://maraton.caf.com