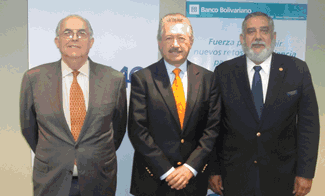 Good corporate governance practices for financial sector promoted with Banco Bolivariano
November 17, 2010
The Latin American financial institution granted technical cooperation funds to Banco Bolivariano of Ecuador to implement good corporate governance practices (GCGP).
(Quito, November 17, 2010).- CAF - Latin American development bank - and Banco Bolivariano (BB) signed a non-refundable technical cooperation agreement to establish the principles and guidelines for adoption and implementation of good corporate governance practices in the Ecuadorian bank. This is the first specific intervention by CAF in the implementation of corporate governance practices in a financial institution in Ecuador and is expected to have a significant demonstration effect for the country's financial sector.
Hermann Krützfeldt, CAF director-representative in Ecuador, said the role of the multilateral organization in supporting and stimulating corporate governance practices was in line with its commitment to sustainable development and regional integration. The Corporate Governance Program aims to contribute, through promotion of good practice, responsible competitiveness for individual companies and at sectoral and macroeconomic level.
Adoption of good corporate governance practices brings important benefits for the companies which apply them, such as reducing risk for investors and creditors, and raising value for shareholders.
CAF began promoting good corporate governance practices in 2004, with the preparation, drafting and dissemination of the Guidelines for an Andean Corporate Governance Code for the five countries of the Andean Community. In recent years, the multilateral bank has also promoted application of good practices in public companies in the region, analyzing the legal framework in which they operate, and finally making recommendations on policies and measures applicable in each case.
Banco Bolivariano opened for business on March 13, 1980 and, under an efficient management, positioned itself as one of the strongest institutions in the Ecuadorian market. It maintains high levels of quality assets, profitability and liquidity compared with the Ecuadorian financial system. This efficiency results from efficient management over 30 years and the commitment of its management and shareholders to its future and national development.