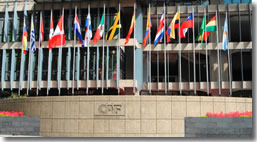 Immediate support for Colombia in response to national emergency
November 26, 2010
Following rains that ravaged national territory, CAF – Latin American development bank – is providing the Colombian Government with a US$100,000 grant and an extraordinary loan for emergency support.
(Caracas, November 26, 2010).- As immediate response to the rains caused by the La Niña phenomenon which has devastated areas of Colombia causing considerable human losses and material damage, CAF President & CEO Enrique García informed Colombian President Juan Manuel Santos by letter of approval of a US$100,000 grant for the country with the objective of cooperating immediately with rapidly available funds, and an extraordinary loan, which will be available for Colombia if required to deal with the national emergency.
"On behalf of CAF and myself, I wish to express to you and through you the people of Colombia our most sincere solidarity in view of the torrential rains which have ravaged the country causing considerable human losses, thousands of victims and material damage," the CEO of the multilateral financial institution said in his letter to President Santos.
Both the loan and grant are intended to offer support through the channels established by the Colombian Government.