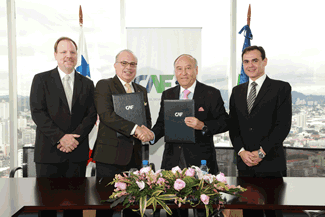 New contribution for Panamanian financial system
November 10, 2010
Line of credit signed with Bladex for US$50 million, and Global Bank for US$10 million
(Panama City, October 19, 2010).- CAF - Latin American development bank - signed two lines of credit for a total of US$60 million to continue strengthening the Panamanian and Latin American financial systems.
CAF President & CEO Enrique García signed with Jaime Rivera, Bladex CEO, and Gregory Testerman, Bladex vice president & deputy CEO, the agreement under which CAF grants a line of credit to Bladex for US$50 million. The CAF president also signed with Otto Wolfschoon, JR. vice president and deputy CEO of Global Bank, an agreement which grants the Panamanian institution a US$10 million line of credit. The funds are earmarked for financing the customers of the two institutions in Panama and Latin America.
After the signing, García emphasized the catalytic role that CAF plays in the region and - specifically - the Latin American financial system. "With these operations, we are contributing to strengthening institutions which stimulate foreign trade and facilitate working capital and investment," he added.
"The region's financial sector continues to face challenges and opportunities, which is why it is assuming and integrating - with ever greater responsibility - the principles of sustainable development in all its activities, and the reason for our interest in strengthening it," García said.
Bladex is a supranational financial institution founded by 23 central banks of Latin America and the Caribbean to support trade and contribute to the economic growth and competitiveness of Latin America. Based in Panama, its shareholders include central and commercial banks from the region, along with international banks and private investors.
Global Bank, with 100% Panamanian capital, began operations in June 1994 and is now positioned as the fifth bank in portfolio, fourth in deposits, and second with Panamanian capital on the local market. Global Bank is locally rated A + by Fitch and Equilibrium.