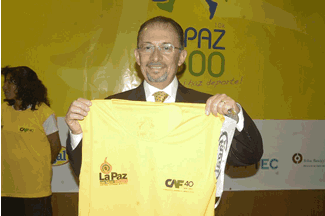 Over 6,500 runners registered for the La Paz 3600 10K race
November 03, 2010
This Friday, November 5 at 7pm, registration closed for the race competition to be held Sunday from 7:00 am.
(La Paz, November 3, 2010).- With only three days to go before the second La Paz 3600 10K race organized by CAF – Latin American development bank – and the La Paz Autonomous Municipal Government (GAMLP), 6,500 competitors have already registered, overtaking the number of participants registered for the first competition by over 1,500 participants.
The organizers said this number is expected to go on growing since registration continues until Friday, November 5, so citizens still have time to compete in this important sporting event which aims to establish itself as one of the largest in the country.
Registration is free on presentation of a photocopy of ID or birth certificate. Places for registration are: the Municipal Sports Department (Edificio Técnico Municipal, Colombia esq. Mcal Santa Cruz, Piso 11); the municipal swimming pools: Obrajes (Calle 11) and Orkohauira (Pasoskanki bridge), Luis Lastra Sports Palace (final Presbítero Medina); and Munaypata Sports Palace (Av. Naciones Unidas).
This year the categories for athletes and amateurs (women and men) are secondary students, under 35s, 36 to 45, over 46s, and people with special capacities (wheelchairs)