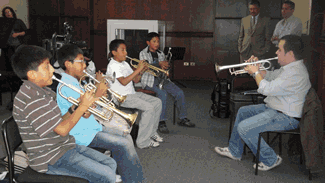 Promotion with FOSJE of social integration of children and youth through music
November 02, 2010
In Quito, an orchestral training workshop was held as part of the CAF Social Action through Music Program.
(Quito, November 1, 2010).- Promoted by the CAF Social Action for Music Program, CAF and the Ecuadorian Youth Symphony Orchestra Foundation (FOSJE) held an orchestral training workshop in the city of Quito, with the participation of over 70 children and young people. The program has established itself, since its inception in 2000, as one of the flagship programs in the area of social integration of children and youth at risk, following the Venezuelan model of the Youth and Children's Orchestra Systems led by Maestro José Antonio Abreu.
Through choral and orchestral practice, the program offers young people the opportunity to develop their intellectual, physical and spiritual capabilities and fosters values of respect, work and solidarity which contribute to social integration and bring peoples closer together. The participants in the workshop in Quito included four Venezuelan teachers of flute, trumpet, violin, double bass, coordinated by maestro Patrick Aizaga. Workshops will also be held in the cities of Guayaquil and Esmeraldas.
The Social Action through Music Program, in Latin America, is one of CAF's most important investments in social responsibility in the last 10 years. Since its inception, the program has trained 40,000 vulnerable children and young people, and 380 teachers who are now multiplying the model in their communities, giving 130 instrumental, choral and string instrument workshops in 36 Latin American locations. Today 45 institutions are replicating the model in Brazil, Bolivia, Colombia, Ecuador, Peru, Uruguay, and Venezuela.
CAF is committed to reducing poverty and inequality in the region. In this respect, the Latin American development bank contributes to strengthening and implementing an integrated agenda for development by building socio-productive capacities and preserving and promoting culture as a vehicle of social inclusion.